Product Description
Intelligent Technology Environment Friendly Ductless Filtered Fume Hood
Product Introduction
XC- D series ductless filtered fume hood is compliance with NFX15 211:2009(ANSI Z 9.5-201), ASHRAE 110:1995 standard and China national standard JG/T385:2012, certificated by ISO9001.
Specially designed to protect the safety of laboratory personnel in the experiment operation, the product prevents operators from inhaling toxic, harmful, pathogenic or unknown toxic chemicals during the experiment, efficiently purifying the air in fume hood and laboratory, and providing safety protection for laboratory personnel.
Working Principles
1. Air inlet
Air can be pumped directly from the laboratory into the fume hood, creating negative pressure, and the steady face velocity forms a natural barrier to isolate users and the chemicals they operate with.
2. Comprehensive filtration system
The fan system will suck the toxic and harmful gases upwards, and return clean air to the room after filtration. The excellent control concentration of the cabinet can ensure that the chemical gas in the cabinet will not return to the room and cause pollution.
3. Purify the laboratory air
Different filters are configured according to different operations to effectively filter toxic and harmful gases, purify the laboratory air, remove chemical residue odor, and the level of laboratory cleanliness.
4. Purify the surrounding air
The continuous filtration efficiency of the fume hood can help to purify the indoor air.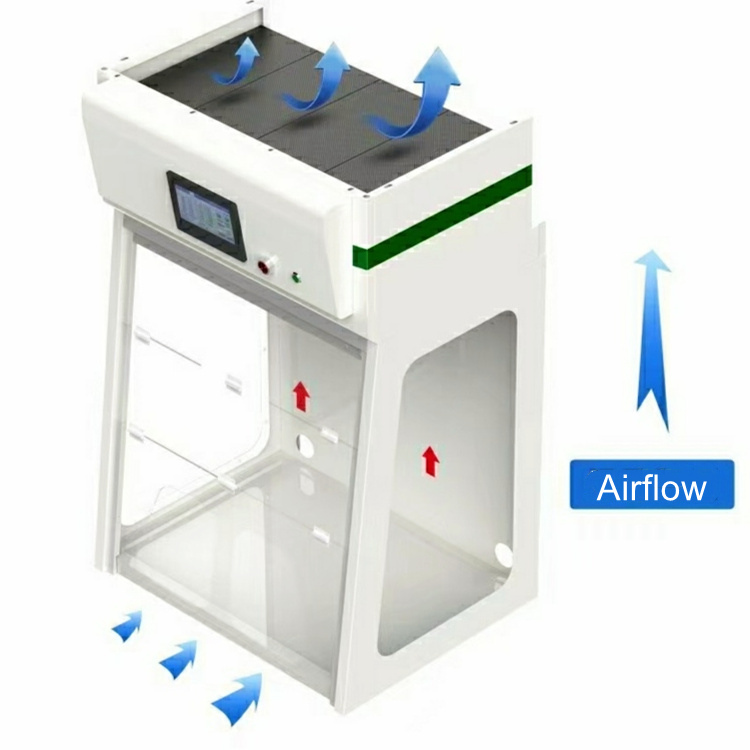 Features
1. Metal parts: the main material use ≥1.2mm galvanized steel sheet, epoxy resin electrostatic coating, covered with durable anti-chemical lead-free coating, maintaining high finish and minimizing the influence of corrosion and moisture.
2. Front panel and side panel: the main material ≥6mm acrylic sheet, which has excellent weather resistance, excellent chemical resistance, not easy to aging, colorless and transparent, clear, visual comfort, beautiful and generous.
3. Real-time temperature and humidity environment monitoring system, display temperature and humidity, set alarm parameters to ensure product safety.
4. Fan monitoring: Fan system failure alarm, online adjustable fan speed, to ensure the air volume required for different chemicals' operation.
5. Filter saturation alarm system: The product is equipped with double-layer filters and dual VOC probes. One probe monitors indoor air quality and one probe monitors the filter saturation. The filter sets the saturation alarm value, it will alarm if out of the range, when the concentration exceeds the set value for a long time, the filter needs to be replaced.
6. PSC fan imported from USA, 24 volts, stable performance, ultra-quiet, no sparks and static electricity.
7. High-efficiency filtration system, select arrangement and distribution according to particle size, follow ASTM standard, effective for acid gas and organic gas, with strong adsorption capacity, adopt high-efficiency HEPA filter for particles, filter efficiency of 99.995% for particles larger than 0.3um.
8. The LED lighting lamp power is equivalent to 25W fluorescent lamp, does not produce heat, safety does not affect the temperature of the experiment environment, energy saving, environmental protection, and long life.
9. Epoxy resin countertops have superior chemical stability, super corrosion resistance, good impact resistance, no damage, excellent high temperature resistance, integrated core, long service life, no delamination, no expansion, no cracking.
Software Control Part:
1. 7-inch large screen display, IoT intelligent HMI man-machine interface, resolution: 1024x600, perfect vision system;
2. Support SIM card 4G communication, 4G communication module has China Compulsory Certification (CCC)
3. It has the function of managing the chemicals in operation, and can support not less than 100 chemicals list display, the list including serial number, chemical name, quantity, unit, etc.
On the device side, operations such as adding, deleting, and modifying the list can be performed; the data is synchronized to the cloud back-end server; user can check the list of currently used chemicals via the WeChat client side.
4. Remote management can be carried out through the WeChat client, and historical VOC data, temperature and humidity environmental data can be presented in a curved way; historical alarm records can be viewed, and fans, lighting, and alarm lights can be remotely controlled.
5. API interface can be provided to support the docking function of third-party platforms.

Technical Parameters
Model

Specifications

Configuration

Optional Parts

XC-DFH800S

Note:

Base cabinet is optional

Dimension(L*W*H)

External (mm): 800*620*1245

Filter(pc): 4

Pre filter(pc): 2

Fan(pc):1

Light: led lamp x 1

Display screen:

7-inch LCD touch screen

Epoxy resin worktop(pc): 1

Power cord(pc): 1

Control system(unit): 1

VOC Alarm system(Unit): 1

Temperature&Humidity alarm system(unit): 1

Remote monitoring system(unit): 1

Base Cabinet

(fixed cart or mobile cart)

Internal (mm): 781*574*934

Stainless steel worktop

Air Capacity(m³/h): 230

Anemometer

Face velocity: 0.4-0.6m/s

Alarm Model

Voltage: 110V-240V

Ammonia alarm

Formaldehyde alarm

HCL alarm

Frequency: 50-60HZ

Filter Model

Power: 42W

OG: Organic filter

AG: Inorganic filter

FO:Formaldehyde filter

AM: Ammonia filter

H14: HEPA filter

Rated current: 2A

Volume: 40-52