产品描述

Medium Series Lab Water Purification System
GB/T6682 -2008 PN-EN ISO 3696:1999
Lab water purification system is a kind of pure water making plant for testing and inspecting water in laboratories. and they are widely applied into Scientific research, College and University, Disease control, Environmental protection, Chemical industry, Foods, Animal husbandry, Brewing industry, Soil test, Blood center, Hospital, etc.
Performance &Advantages
According to the product design aim "good adaptability to raw water, high capacity water production, ultra-long consumables life, producing water quality is excellent and stable, system operating parameters is adjustable, can be matched with biochemical analyzer". Medium series lab water purifiers have the following special process configuration design:
Good adaptability to raw water, high capacity water production: 40L/H -200L/H
Except for the above targeted design, Medium lab water purifiers have another technical characteristics:
Pretreatment, RO, aftertreatment are integrated into one machine casing with universal wheel, installation and maintenance is convenient, with scientific structure configuration.

CPU automatic control PLC imported from USA, fault self-diagnosis sound and light alarm system, LED LCD screen can show the producing water quality online, the man-machine interface conforms ergonomics' design, waterproof safe stainless water intake Key, etc
Working Principles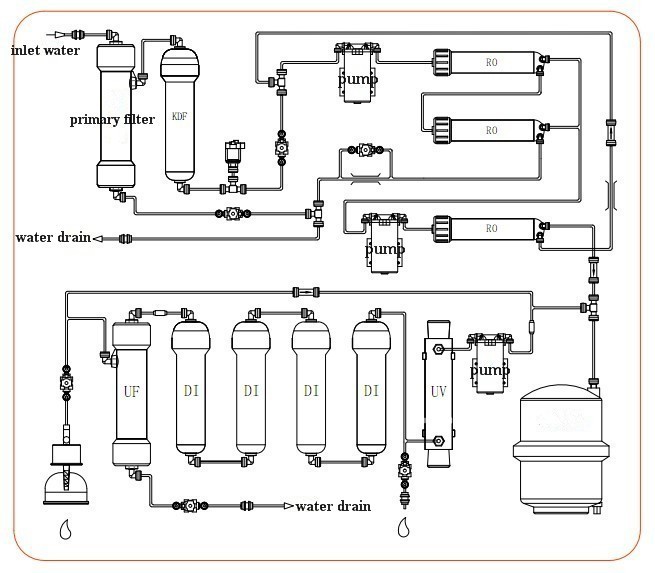 Technical Parameters
Product Name

Standard Reagent Type

Low Organics Type

Depyrogen Type

Gene Research Type

Producing Water Quality

1

st

lab water

Product Model

XM(40-200)01/02 UP

XM(40-200)01/02UV

XM(40-200)01/02UF

XM(40-200)01/02UVF

Working Conditions

Feed water: municipal tap water, Pressure/Temperature: 0.10Mpa-0.5Mpa, 5-40℃

(feed water TDS>400ppm, better equipped with water softener)

Conductivity(

μS/cm

)

≤0.06

≤0.055

Resistivity(M

Ω

.cm)

≥15-18.2

≥18.2

TOC(ppb)

≤10

≤1-2

≤5

≤1-2

Endotoxin(EU/ml))

--

--

≤0.001

Particle(0.22μm)

<1/ml

Bacteria (CFU/ml)

≤1

Heavy Metal Ion

<0.01ppb

Organics removal rate

>99%, when MW>200dal

Water Flow Rate(L/min)

1-2

Water Production(L/H)

5-30

Soluble Silicon(Sio, mg/L)

<0.01

Abs(254nm1cmoptical path)

<0.001

Metal Cation(ppb)

Fe, Al, Cr, Ni, Cu<0.005ppb Zn,K<0.02ppb Na<0.01ppb

Anion(ppb)

Cl-, SO42-<0.01ppb no2-,no3-<0.02ppb

Size(mm)

650*600*1380 (LxWxH)

Weight(kg)

50

Application

feed water for ultrapure water system, for glassware cleaning, microbiological analysis, sample dilution and reagent preparation.

general chemistry and qualitative analysis, water analysis and general HPLC, spectroscopic measurement, buffer and media preparation.

water supply for the instruments like high pressure steam sterilizer, cleaning machine, automatic biochemical analyzer, immune analyzer,temperature and humidity chamber, Salt Spray test chamber, aging apparatus, humidifier, etc

HPLC, GC-MS, ICP-AES ICP-MS, AAS, GF-AAS TOS analysis, IC, electrochemistry

Ultra trace and trace inorganics or organics analysis. molecular biology, microbiology. PCR application and analysis. DNA sequence analysis

Mammalian cell culture. Cell and culture medium preparation. Monoclonal antibody production. Electrophoresis, gel analysis.

Model Explanation:

X means brand: XUECHENG, M means medium series (optional: 5.1 inch touch screen, microcomputer control and EDI module+ purified unit)

UP means standard reagent type, UV means low organicsl type, UF means depyrogen type, UVF means gene research type.

(40-200) means production 40 -200L/H

01 means single stage RO treatment, 02 means double stage RO treatment.
Remarks:
1. The water production and recovery rate of RO system under condition of water temperature 25℃, raw water pressure 0.15Mpa.
2. The index is adjustable, pls obey to technician's professional guide to choose the proper recovery rate.
3. We can't guarantee the index under condition of very few special raw water, pls consult the technician for details.
More models for option