产品描述

pp laboratory furniture walk in lab fume hood floor fume cabinet
Brief Introduction
PP fume hood use 8mm thick high quality pure material PP (polypropylene) panel to make through integrally welded by same color welding rod, the acid and alkali resistant and weather resistant is very good, with semi-permanent feature.
The top use top hood type air exhaust design, guide panel use the same material PP to make, with perfect acid and alkali resistant.
Installation size is scientific and reasonable, without airflow corner, can get max exhaust gas capture performance.
Cabinet use lots of "" "U" "T" type strengthening structure, ensuring whole body solid and reliable.
Shell=Upper Hood: use 8mm thick high quality pure material PP (polypropyle) panel to make, after caved bent treatment into whole cabinet, with strong acid and alkali resistance, corrosion resistance. inner side panel can be set water cock, also can be matched with gas cock, back panel can be fixed guide panel, top panel can be set lighting and gas collecting device.

Sash=Glass Visual Window
glass: 5mm thick tempered glass, bigger strength, good bending, will not produce acute angel small pieces when broken, with excellent acid and alkaline resistance.
Worktop the fume hood worktop uses PP material 8.00 thickness, the top has good performance for waterproof, acid and alkali resistance, which adopts integral welding design with upper cabinet bod (upper hood), the operation surface is equipped with water retaining anti-overflow treatment, the top can be other material tops as per customers' requirement; water sink and faucet is optional.
Operation Panel use LCD control panel,set with buttons for power supply, socket, lighting, blower and operating indicator light,etc. LCD screen can display the operating condition clearly.
Technical Drawing and Specifications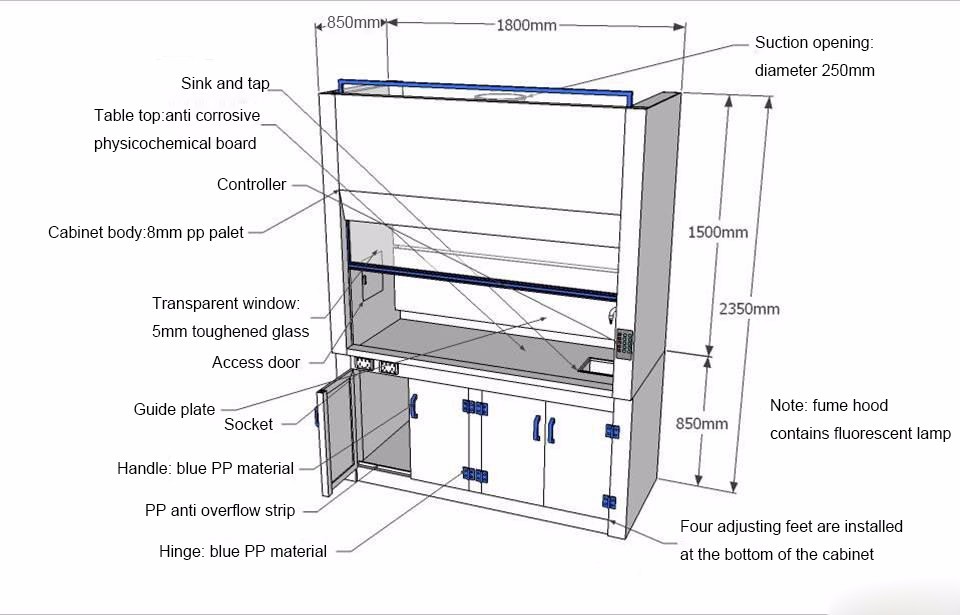 Name
Size
Model
PP Lab Fume Hood

1800*850*2350mm

XC-LTFG1800PP

1500*850*2350mm
XC-LTFG1500PP
1200*850*2350mm
XC-LTFG1200PP
NOTE:
1 We can design and manufacture non-standard size as per users' requirements.
2. The price excludes vent blower, vent pipe& elbow, and water sink&tap, the flow control valve and cock are optional.
Detailed Pictures