Product Description
Features
- The inside and outside of the drying cabinet are made of high quality SUS304 stainless steel (for the shell is made of high quality steel plate powder coating, and the inner room is made of SUS304 stainless steel); the appreance is novel, beautiful and practical.
- Tempered glass windows are used for front and rear double doors to observe the drying condition of objects in the box at any time; users can choose single door or double door according to the requirements.
- Two indepent fans, reasonable air duct and circulation system composed of heater make the temperature in the workshop more uniform and change little, and have air convection breeze device, and the air in the inner chamber can be renewed and circulated.
- It has air filtering and cleaning effect to prevent secondary pollution.
- Advanced intelligent LCD touch controller, program control, man-machine interface, preset program can be selected by oneself.
- After drying, the equipment has the function of end reminder.
- The drying cabinet is also equipped with a stainless steel tray, which is used to easily pour out the excess water; keep the drying cabinet clean at the same time.
Technical Specifications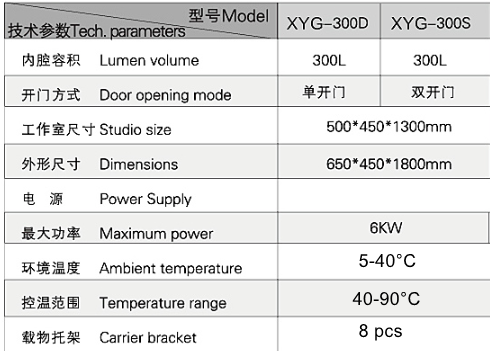 Application
The new generation of medical drying cabinet is a kind of large capacity drying equipment, developed in combination with the actual medical situation in China.
It is mainly suitable for drying the instruments, glassware, anesthesia and respiratory articles in the central supply room or operating room of the hospital.
The operation is simple and convenient.