Product Description
Intelligent Technology Ductless Filtered Balance Weighing Hood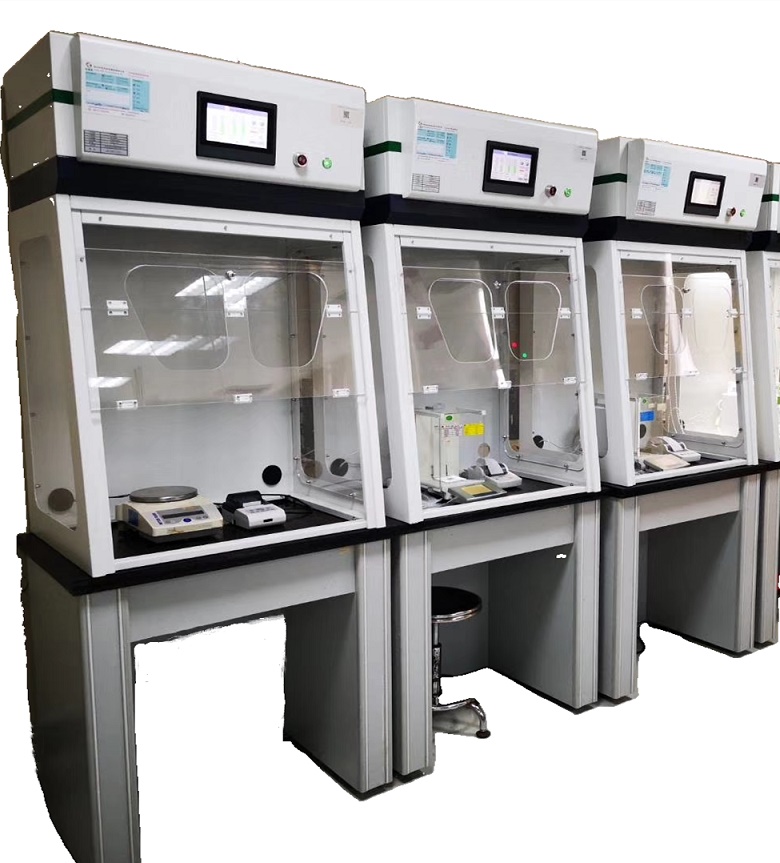 XC- D series ductless filtered balance weighing hood is compliance with NFX15 211:2009(ANSI Z 9.5-201), ASHRAE 110:1995 standard and China national standard JG/T385:2012, certificated by ISO9001.
Specially designed for safe weighing of toxic chemical powders and reagents.It adopts negative pressure airflow to ensure good control of concentration, filtration effect, and accurate weighing and balance stability, can meet the weighing precision of one in 100,000, to ensure the safety of laboratory operators.

The balance weighing hood has the same configuration with the fume hood, without the countertop and cart, which needs to be equipped with a dedicated balance table (specifically for weighing), shock absorption.
Working Principles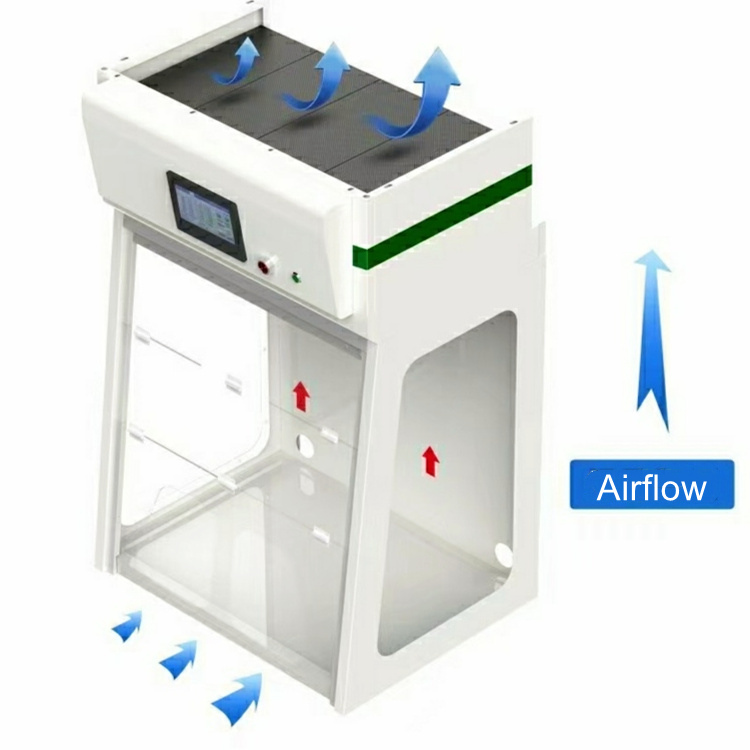 1. Air inlet
Air can be pumped directly from the laboratory into the fume hood, creating negative pressure, and the steady face velocity forms a natural barrier to isolate users and the chemicals they operate with.
2. Comprehensive filtration system
The fan system will suck the toxic and harmful gases upwards, and return clean air to the room after filtration. The excellent control concentration of the cabinet can ensure that the chemical gas in the cabinet will not return to the room and cause pollution.
3. Purify the laboratory air
Different filters are configured according to different operations to effectively filter toxic and harmful gases, purify the laboratory air, remove chemical residue odor, and the level of laboratory cleanliness.
4. Purify the surrounding air
The continuous filtration efficiency of the fume hood can help to purify the indoor air.
Features
Excellent
no need to install pipeline engineering, convenient installation, no exhaust gas, new environmental protection.

Fan
DCBL fan, super quiet, no spark static, stable performance, long service life.

Intelligent monitoring and alarm system
dual-probe design can digitally monitor and alarm the temperature, humidity and VOC concentration in real time.
High-efficiency filtration system
flexible filtration module, which can be matched with pre-filter powder filter, high-efficiency molecular filter and HEPA powder filter to meet various experiments' requirements and achieve the best adsorption effect.

IoT remote monitoring system
intelligent HMI man-machine interface, SIM card 4G communication, Intelligently view the equipment operation, and the operation data can be set to realize monitoring and alarming.

Ergonomics
the ergonomic sloping front door panel design provides the best look and feel and is comfortable to operate.

7-inch large screen display
resolution 1024x600, perfect visual effect, manage the chemicals in operation.
Technical Parameters
XC-DFH1000BS

Note:

equipped with dedicated balance table

Dimension(L*W*H)

External (mm): 1000*620*1245

Filter(pc): 4

Pre filter(pc): 2

Fan(pc):1

Light: led lamp x 1

Display screen: 7inch LCD touch screen

Epoxy resin worktop(pc): 1

Power cord(pc): 1

Control system(unit): 1

VOC alarm system(Unit): 1

Temperature&Humidity alarm system(unit):1

Remote monitoring system(unit): 1

Optional parts

Internal (mm): 981*574*934

Stainless steel table-board

Air Capacity(m³/h): 230

Anemometer

Face velocity: 0.4-0.6m/s

Alarm Model

Voltage: 110V-240V

Ammonia alarm

Formaldehyde alarm

HCL alarm

Frequency: 50-60HZ

Filter Model

Power: 42W

OG: Organic filter

AG: Inorganic filter

FO: Formaldehyde filter

AM: Ammonia filter

H14: HEPA filter

Rated current: 2A

Volume: 40-52dB

Operation hole: Trapezoid
Application
solid powder and liquid weighing.

More Models for Option